Center for Cellular and Biomolecular Machines
3rd Annual CCBM Open House
Friday, September 27, 2019
UC Merced, 5200 North Lake Road
Open to all faculty, staff, students & local community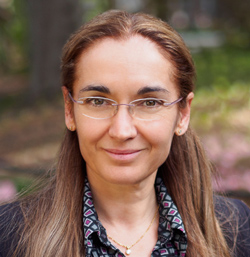 Dr. Nogales is a Howard Hughes Medical Institute investigator; a Professor of Biochemistry and Molecular Biology at the University of California, Berkeley; and Senior Faculty Scientist at the Lawrence Berkeley National Laboratory. She obtained her B.S. degree in physics from the Universidad Autonoma de Madrid (Spain). She did her thesis work at the Synchrotron Radiation Source (U.K.), under the supervision of Joan Bordas, on the structural dynamics of tubulin assembly, earning a Ph.D. degree from the University of Keele. Her work in Kenneth Downing's group at the Lawrence Berkeley National Laboratory involved the use of electron crystallography to determine the high-resolution structure of tubulin. 
Schedule to be announced soon
Free Admission. Space is limited, and early registration is encouraged.
Guest parking available in Bellevue Lot. Permit-less parking dispenser, credit card only (no cash).
Contact: ckouadio@ucmerced.edu or (209) 228-3608
CCBM Executive Committee:
Dr. Victor Muñoz, Co-director & Professor of Bioengineering
Dr. Ajay Gopinathan, Co-director & Professor of Physics
Dr. Sayantani Ghosh, Associate Professor of Physics
Dr. Kara McCloskey, Associate Professor of Bioengineering
CCBM Administrative Staff:
Carrie Kouadio, CCBM Executive Director
Nora Cole, CCBM Programs Manager
Campus map
SE 1: Science and Engineering 1
SE 2: Science and Engineering 2
COB1: Classroom and Office Building 1
SSB: Student Services Building
---
The NSF-CREST Center for Cellular and Biomolecular Machines uses an interdisciplinary approach combining physical, biological and engineering methods to understand and control the functioning of multi-scale assemblies of biomolecules and cells, and to design and develop novel bio-inspired functioning machines ranging from designer cells and tissue to diagnostic and therapeutic devices. The center is also focused on enhancing biophysics, biochemistry, and bioengineering graduate and undergraduate education, as well as leading K-12 STEM outreach activities in the Merced area for teachers and students.