February 26, 2019 - 12:15pm
Rudy Ortiz
Full Professor of Physiology and Chair of the Department of Molecular & Cell Biology
University of California, Merced
TUESDAY, FEBRUARY 26 |  12:15 PM - 1:15 PM
 "Health Benefits of Chronic Almond Snacking in Millennials"
RSVP by February 20th to:
"Research has shown that 20% to 43% of college freshmen report skipping breakfast, by far the most frequently skipped meal among this group. That's an unfortunate statistic, because daily breakfast consumption among US adults may decrease the risk of adverse effects related to glucose and insulin metabolism, according to a scientific statement by the American Heart Association.
Knowing these risks, UC Merced nutrition researcher Professor Rudy Ortiz and postdoctoral fellow Jaapna Dhillon looked into the potential impact of almonds as a morning snack for college students who opt to skip breakfast." - http://www.almonds.com/blog/new-study-explores-almonds-as-an-alternative-choice-for-breakfast-skippers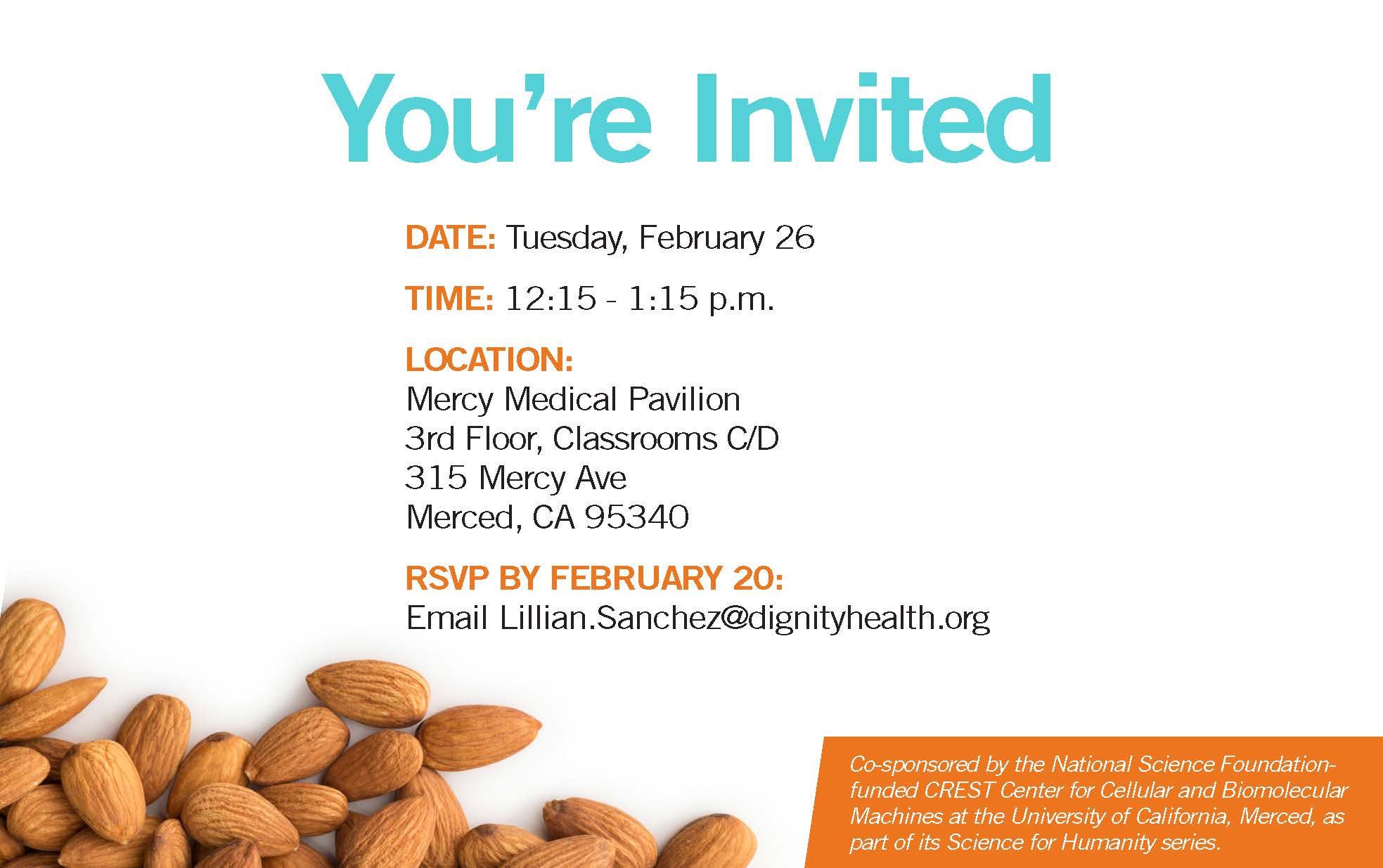 Contact
CCBM Executive Director
Carrie Kouadio
(209) 228-3608
This talk is co-sponsored by Dignity Health Mercy Medical Center and the
National Science Foundation-funded CREST Center for Cellular and Biomolecular Machines at the University of California, Merced, as part of its Science for Humanity series.
Location
Mercy Medical Pavilion
3rd Floor, Classrooms C/D
315 Mercy Ave
Merced, CA 95340