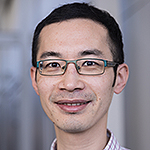 Professional Title:
Associate Professor of Chemistry and Chemical Biology, Thrust 2
Education:
Ph.D., 2004 - University of Pittsburgh
B.S., 1997 - Peking University
Research Interests:
Professor Ye's research is focused on developing the nanoscale surface chemistry needed to manipulate and measure biomolecules and analogous systems. The nanoscale arrangements of biomolecules, such as proteins and DNA, underlie a wide spectrum of biological functions. Yet our ability to measure and control biomolecules at the nanoscale and single molecule level remains very limited. His group is using and developing sophisticated nanoscience tools to position and measure single molecules with nanometer resolution, dynamically activate the functions of individual biomolecules on surfaces, and develop artificial analogs of biological motors. The greatly improved understanding and control of biomolecules at the nanoscale have implications in unraveling key biological functions, creating artificial functional bimolecular structures, and developing ultra-sensitive biosensors.
Dedicated laboratory space of 1000 sqft is located within the Science and Engineering Building (S&E). The lab space includes a wet lab (SE 261), a support room (SE 261F) for surface modifications, and two small rooms (SE239 and 277D) dedicated to AFM and other surface characterizations. Equipment incudes a customized Agilent atomic force microscope, with extensive capabilities in temperature, electrochemical control and fluid handling. My lab also has access to a shared NT-MDT INTEGRA AFM, which was acquired through an NSF CRIF grant I lead. The AFM is integrated with an Olympus IX 73 inverted fluorescence microscope, which will be used to carry out the total internal reflection fluorescence measurement of DNA switching. The lab is also equipped with other surface characterization and modification tools, such as a Nicolet FT-IR capable of grazing angle surface reflectance spectroscopy, a BAS potentiostat, a plasma cleaner, a glovebox and a Schlink line.