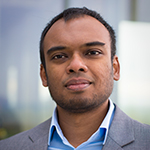 Professional Title:
Assistant Professor, Bioengineering, Thrust 1
Education:
Ph.D. – 2011, Harvard University
S.M – 2011, Harvard University
A.B. – 2005, Harvard University
Research Interests:
Synthetic Biology
Soft Matter Physics
Colloid and Interface Science
Microfabrication and Microfluidics
Dedicated laboratory space is approximately 850 sq ft of space divided into three rooms. The first room consists of wet workbenches for four to six students in a shared 1500 sq ft space in the basement of the newly opened SE2. The bays are attached to two fume hoods. The lab is equipped with glassware, chemicals and equipment (hot plates, hot water baths, floor and table-top centrifuges (Sorvall R5C and Beckman Ultra 80K, Schlenk-lines) for organic and inorganic particle synthesis. The second 350 sq ft room is a dry lab with optical tables and microscopy equipment. The third 250 sq ft room is dedicated to cell culture and biophysics experiments. The equipment and space listed here is sufficient to perform all the proposed work.